Our Pastoral Ministry program is designed to prepare humble, effective pastors to confidently lead dynamic, culturally-relevant churches.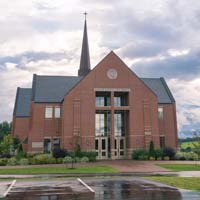 Pastoral Ministry
Available as a program major only
Is this program for me?
Do you sense God's call on your life to serve in and through a local church, reaching the lost for Christ and shepherding the people under your care? Our Pastoral Ministry program will equip you to effectively lead people into a deeper relationship with Jesus Christ.
Practical Ministry Experience
Develop effective ministry philosophies and core values that are consistent with biblical directives.
Interview and interact with effective pastors and participate in field trips to leading-edge churches in a variety of denominations.
Gain the confidence to lead effective ministries through culturally relevant and productive outreach and evangelistic strategies.
Design effective discipleship and healthy congregational care ministries.
Spend four months on internship in your final year, serving with a veteran pastor in a local church context to learn how to pastor within and through a local church.
Core Courses
Church Health, Growth, & Leadership
Church History
Homiletics
Expository Preaching
Introduction to Compassion Ministry
Empowering & Equipping Lay Ministry
Pastoral Ministry
World Religions or Worldview
Chat with a Professor  Apply Now
Additional courses and course descriptions can be found in our catalogue.
If you love me, feed my sheep