We believe students thrive best when their learning includes both 'academic' and 'experiential/hands-on learning components. Our objective is that your time at Kingswood will result in a passion for God, His Word, His Church, and His mission.
All aspects of the student's life: classroom learning, residence life, chapel services, student ministries, missions trips, athletics, and pulse bands are designed to create an environment in which God can shape us into effective Christ-followers.
Students come from all over North America and some from other parts of the world to study at Kingswood. Kingswood students quickly come to know and love one another, developing friendships that last a lifetime.
We welcome you to come and visit the campus to sit in on classes, watch students having fun around campus, listen to invigorating conversations about personal faith or world events, feel the care and concern during times of prayer and sharing.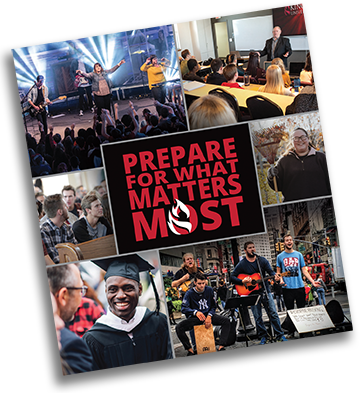 Campus Brochure
Discover the many opportunities available at Kingswood University. Get your brochure today!