Academic Library
Earle & Marion Trouten Library
How to Search the Online Catalogue
To find a book in in the library catalogue, enter your search terms in the search box on the library's homepage.
On the results screen, you can limit /filter your results by selecting a keyword facet on the left: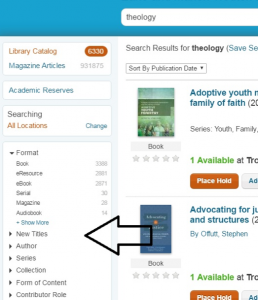 Once you find a book, note the format and where to locate it:

If it is a print book, the call number is the address or location of the resource on the shelf.  Resources are arranged on the shelf in numerical order by call number. Click here to use a map to guide you to the shelf where the call number is located.
About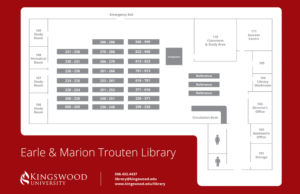 The Earle and Marion Trouten Library is the resource centre for Kingswood University, providing access to a variety of information sources. In addition to serving the faculty and students of the University, the library is open to the surrounding communities.
The library collection has a focus on Biblical Studies and Theology and is composed of both print and online resources. The collection's evangelical perspective makes it a unique resource for Atlantic Canada.
Study Spaces
The library offers four study rooms with seating capacities ranging from three to six people. These spaces can be booked in advance by contacting the library staff.
Classroom
L-110 is a fully functional classroom with seating for up to twenty people. It is equipped with an Epson Brightlink Interactive Projector.
Computers
Computers are available to registered patrons on a first-come-first-serve basis.
Student Success Centre
Located in L-111, the Student Success Centre is a place where students can access help to assist in achieving academic and personal goals. Our volunteers provide peer mentoring in the skills necessary for academic success and beyond, including organization, reading, writing, research, test-taking, and proofreading.
The SSC is open on weekdays, and specific hours are posted at the beginning of each semester.
Students who are interested in serving as a student volunteer can contact the librarian at 506.432.4417, or email sabinev@kingswood.edu for more information.
Using Your Library Account
From the library home page, select the "Log into Your Library Account" button.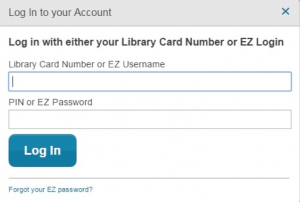 Student library card information can be found in Populi. Staff and faculty can contact the library staff for account information. Public patrons need to present valid ID and create an account at the library circulation desk.
Once you are logged in, you can access your account to renew items and change information.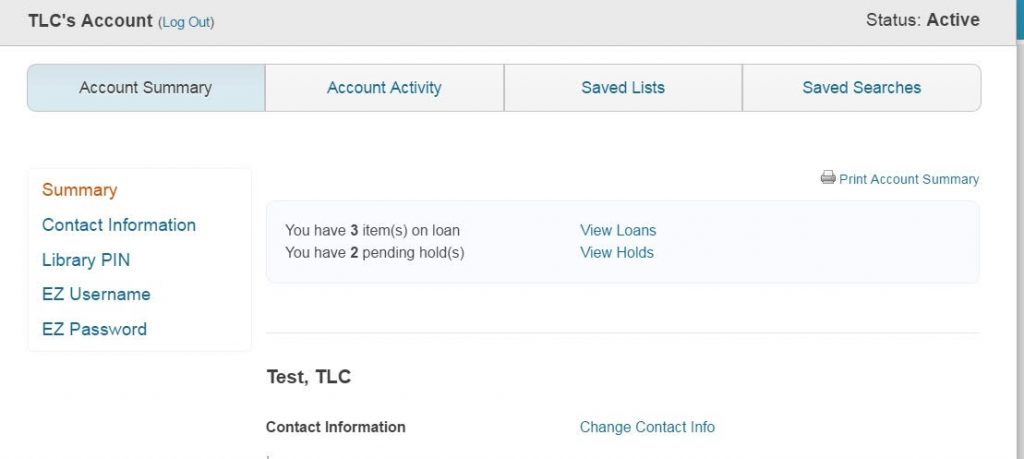 If you need assistance, you can select the help menu at the bottom of the screen.

Or contact the library staff
Phone: 506-432-4437
Hours
December 7, 2023

Library Open

December 7, 2023 8:00 am - 5:00 pm


Library Open

December 7, 2023 6:30 pm - 10:00 pm


December 8, 2023

Library Open

December 8, 2023 8:00 am - 5:00 pm

Articles and Journal Databases
Students at Kingswood have access to the following databases:
Digital Theological Library – The Digital Theological Library is a co-owned, born-digital library of religious and theological studies. It offers access to over 600,000 eBooks and numerous databases.

EBSCOhost – provides access to a small collection of eBooks and audiobooks that support the curriculum at Kingswood.
Accessing these resources off-campus may require a User ID and password. Students, faculty, and staff can find this information on Populi or at the library circulation desk.
Library Policies and Services
Loan Period & Conditions
Books and other library materials may be borrowed for two weeks with two renewals permitted. To renew your books you can access your account online, call the library staff, or visit the library. A maximum of 12 resources may be borrowed at one time. DVDs and videos may be borrowed for one week. Reference material, periodicals, and items placed on reserve are for in-house use only and may not be circulated outside the building.
Fines
There is a 50-cent per item per day fine for overdue library materials. For overdue DVDs and videos, the fine is $1 per day. To maintain borrowing privileges with the library, all library materials must be returned and fines paid.
Photocopier/Printer/Scanner
A registered patron can photocopy and print for a fee of 10 cents per page. Color printing is available for a fee of 25 cents per side. Scanning to e-mail is free.
Computer Usage
There are four computers available to registered patrons on a first-come-first-serve basis.
Community Patrons
Members of the community not affiliated with Kingswood University may request a library card at the circulation desk. A valid ID is required upon registration. Children under 12 must be accompanied by an adult.
Resources for Kingswood Extended Students
As a student taking courses away from campus, you have the same access and library privileges as our on-campus students.
Research Help:

Contact the Librarian by email at sabinev@kingswood.edu, Phone: 506-432-4417
Tutorials and videos are available via your Populi account. Click on the Files section and select the Library information and tutorials folder.

Book Delivery:

Books can be mailed to you if you reside in Canada. Cost of shipping/return will be your responsibility.
Once you have identified the item you want in our catalog, send an email to the Librarian with the title, author, publisher and shelf location number. The librarian will contact you to arrange for mailing.

Other Libraries:

You are eligible to participate in the ACL Reciprocal Borrowing Program. Click here to see if you are near a participating library.
You can investigate local libraries in your area to determine what resources and services are available to you.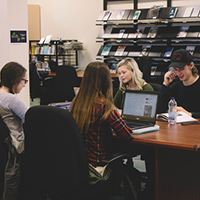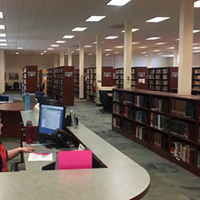 Be still and know that I am God