The Intercultural Studies program will teach you how to effectively share God's Word to God's world. You will learn ways to communicate the Gospel to a culture outside your own, in a way that will best speak to that context.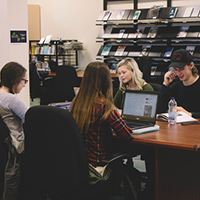 Intercultural Studies
Available as a program major or minor
Is this program for me?
Do you have a passion to travel outside North America to reach people for Christ, sharing the gospel with other people groups? Our Intercultural Studies program will equip you with the skills you need to be an effective minister in a variety of contexts.
Practical Ministry Experience
Be prepared to serve globally, missionally, and strategically in any location of the world.
Learn how to be as relevant as possible to your cultural context without compromising who you are in Christ.
Gain the knowledge and skills needed to provide missional leadership for the local and International church.
Engage in practical ministry for three hours each week under supervision.
Spend four months on internship serving with and learning from experienced Intercultural Studies workers, fully immersed in the culture of the local people group.
Core Courses
Biblical Foundations of Missions
Introduction to Missions
Cross Cultural Ministry
Intercultural Competencies
Practical Issue for Cross-Cultural Preparation
Linguistics
Spiritual Conflict Resolution
World Religions
Chat with a Professor  Apply Now
Additional courses and course descriptions can be found in our catalogue.