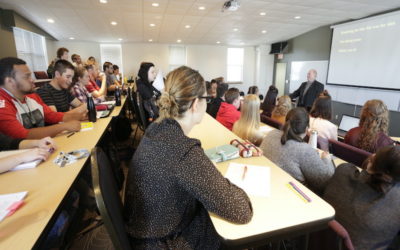 We all know it is important to be intentional about building friendships for support and connection in university, but it is easy to overlook one of the most important relationships – the one you build with your professors. Watching my four children navigate...
read more
Featured Stories • A Word from the President • Stepping Out of the Boat: Dealing With A Pandemic Storm • The Lasting Legacy of Mrs. Jean Irving: One Million Dollar Endowment • Academic Excellence: Celebrating Dr. Ken Gavel's Retirement • Introducing Our New Faculty...
Kingswood and Prairie College (Three Hills, Alberta) have entered an agreement which will help students from the eastern part of the country earn an A.A. degree in Mission Aviation. Students will complete the first 8 months of the 24-month program taking Kingswood...
Kingswood University recently signed an agreement with the Canada Atlantic District of the Church of the Nazarene.  The agreement allows Nazarene students who are enrolled in Kingswood's Bachelor of Arts in Ministry degrees to meet all academic requirements for...
Conversations between the Advent Christian Church and Kingswood University began several years ago.  The denomination, with churches around the world and across North America, including Maine and Atlantic Canada, felt the need for an academic partner to provide...