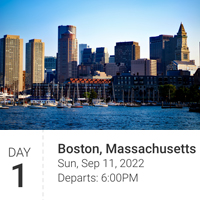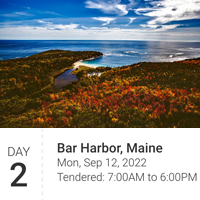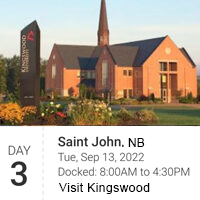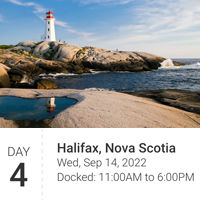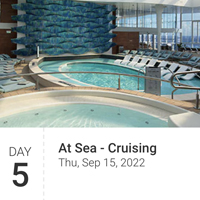 Boston, Maine & Atlantic Canada
Your Canadian – New England luxury cruise to amazing locations. Unpack once and enjoy all this ship has to offer including all food, and beverages that are included with your Classic Beverage package, and also complimentary wifi. Nightly entertainment, outdoor and indoor pools. State-of-the-art fitness center available to all guests.​
Registration for Vision Tour
This year's Vision Tour is currently sold out. Please use the "Contact" option below to be added to a wait list.
EXPERIENCE ADVENTURE ABOARD THE CELEBRITY SUMMIT!!
10 Night Canada Cruise includes port stops in:
Sail away from Boston, Massachusetts
Bar Harbor, Maine
Saint John, New Brunswick
Halifax, Nova Scotia
Charlottetown, Prince Edward Island
Sydney, Nova Scotia
Portland, Maine
Returning to Boston, Massachusetts

Visit Celebrity Summit for additional information
THE CRUISE ITINERARY
September 11 – 21, 2022
Day 1 –  depart at 6 PM from one of the oldest established cities in the US, filled with history and colonial heritage.
Day 2 – Bar Harbor, Maine – offers shops, galleries, and historic architecture against the backdrop of the rugged beauty and serene parkland of Mount Desert Island.
Day 3 –  Saint John, New Brunswick – Canada's oldest city.  A short drive takes us to Kingswood University where we will see firsthand what God is doing on campus as we join students for worship at the Chapel, followed by lunch and a tour of campus.
Day 4 – Halifax, Nova Scotia – full of history and boasting the world's second-largest natural harbour, Halifax was the entry point for millions immigrating to Canada.  A short drive will take you to visit the world-famous Peggy's Cove, the most photographed lighthouse in Canada.
Day 5 – Day at Sea – take time to recharge, visit the pool or spa, and relax as you take full advantage of a day at sea.
Day 6 & 7 – Charlottetown, Prince Edward island – a full two days to tour Canada's smallest province and birthplace.  Delight in the rolling hills, rich farmland, sandy beaches, and red cliffs as you visit the home of Anne of Green Gables and enjoy a lobster feast in this beautiful Maritime province.
Day 8 – Sydney, Nova Scotia – gateway to Cape Breton Island with spectacular views of the ocean from the highlands of the Cabot Trail.  See the many inventions of Alexander Graham Bell at the museum in Baddeck and understand why Bell declared, "for simple beauty, Cape Breton outrivals them all".
Day 9 – At Sea – Rest, go for a swim, take in a movie, or visit with friends on this relaxing day at sea.
Day 10 – Portland, Maine – experience enchanting New England splendor in this old city with narrow cobblestone streets and restored brick warehouses in the Old Port district.  Portland Head Lighthouse is the oldest of its kind in continuous use in the US, dating back to 1791.  A short drive to the resort town of Kennebunk on the Maine coast will reveal a long-time ship-building mecca where sea captains built fine mansions preserved today as lovely inns with antique charm.
Day 11 – Boston, Massachusetts – Early morning arrival.
COST
Pricing is per person based on double occupancy in Canadian dollars. Includes Cruise with listed amenities, a $50 USD onboard spending credit per stateroom and tours in each location the ship stops: (tours are not finalized but will be as soon as sailing resumes)
Interior: $2,840

Oceanview: $3,330

Balcony: $4,370

CONTACT
THANKS FOR CHECKING US OUT!
If you have any questions, please use one of the contact methods below.
506.432.4411
PO Box 5125, Sussex, NB E4E 5L2
GALLERY