Israel Trip |
March 5 – 18, 2023
10-Day Journey through the Land of the Bible
The cost is $3748 USD per person, double occupancy.
This includes round trip airfare from Newark, NJ (or Moncton, New Brunswick for an additional $150 USD), 8 nights accommodation, breakfast and dinner daily, sightseeing, airport-hotel transfers, hotel taxes and baggage handling, touring by motorcoach & tour guide.  This includes three nights in Tiberias, one at the Dead Sea, and four in Jerusalem.
We are also offering a five day Jordan extension (Petra, Amman, Madaba, Mt. Nebo, etc.) for an additional $948 USD pp/double (March 14-18, 2023).
Israel 2023 Itinerary
Day by Day Itinerary
DAY 1: Sunday March 5 – NEWARK, NJ / MONCTON, NB – We depart from Newark, NJ or Moncton, NB to Toronto then non-stop to Ben Gurion Airport in Tel Aviv. Dinner and breakfast are served on board.
DAY 2: Monday, March 6 – GALILEE – Upon arrival at the Tel Aviv airport, we meet our guide and driver, board the bus and head to our hotel in the Galilee for dinner and overnight. Already we begin to feel the spirit of this land. (D)
DAY 3: Tuesday, March 7 – GALILEE – We start our day with a boat ride on the Sea of Galilee and a visit to Ginosar to view the fishermen's boat found on the shores of the Sea of Galilee which dates to Jesus' time. We continue to the Mount of Beatitudes, site of the Sermon on the Mount, to reflect on the serene beauty and what took place here. On to Tabgha, site of the miracle of the fishes and loaves, to see the chapel built over the rock commemorating the primacy of Peter. We then visit Capernaum, the city of Jesus and Peter. There we will see the house of Peter and an ancient synagogue; here Jesus preached and gathered his disciples. We then drive across the Jordan River via the land of Gaderenes, and north to Caesarea Philippi, now called Banias, where Peter made his confession of faith and identified Jesus as the Messiah. We return to our hotel for dinner and overnight. (B,D)
DAY 4: Wednesday, March 8 – GALILEE – Today we take a scenic drive past Cana of Galilee to Nazareth to visit the Church of the Annunciation, Mary's Well, and Nazareth Village. Next we are on to Muchraka, the location of Elijah's altar during his confrontation with the false prophets of Baal. We continue through the valley of Armageddon past the excavation site at Megiddo through Wadi Iron and on to Caesarea, built by Herod the Great in 22 BC. Here we visit the Roman theater, aqueduct and Herodian port. It was in Caesarea that Cornelius was baptized by Peter (Acts 10:24- 28) and Paul was brought to trial (Acts 25). We return to our hotel for dinner and overnight. (B,D)
DAY 5: Thursday, March 9 – DEAD SEA – Today after breakfast, we leave our hotel and drive down the Jordan Valley, stopping for a baptism ceremony at Yardenit on the Jordan River. We continue to the Roman city of Beit Shean, then on to Jericho. On our way to the Dead Sea we stop at Qumran, where the Dead Sea Scrolls were discovered in 1947, then drive to our hotel at the Dead Sea for dinner and overnight. (B,D)
DAY 6: Friday, March 10 – MASADA, JERUSALEM – After breakfast we drive along the Dead Sea to Masada, the fortress where the Jewish Zealots held off the armies of the Roman Empire before choosing suicide over surrender. After this it is on to Ein Gedi Nature Reserve then continuing to Jerusalem. Here we visit the Israel Museum where we see the Model of the 2nd Temple and the Dead Sea Scrolls. On the way we drive through the Elah Valley where David defeated Goliath, to our hotel in Jerusalem for dinner and overnight. (B,D)
DAY 7: Saturday, March 11 – JERUSALEM – This morning we drive to the Mt. of Olives for an outstanding view of Jerusalem. We visit the Chapel of the Ascension, Garden of Gethsemane, and Church of All Nations. We drive along the Kidron Valley and see the Tombs of Absalom, Zechariah and James. We continue to the Church of Pater Noster, the Franciscan Church of Dominus Flevit and the home of Caiaphas. We end our day with a visit to the Garden Tomb where our Communion service is held. We return to our hotel for dinner and overnight. (B,D)
DAY 8: Sunday, March 12 – JERUSALEM – We enter the Old City through St. Stephen's Gate visiting the Pool of Bethesda, the Chapel of the Flagellation, and the Ecce Homo Arch. We continue through the bazaar to the last stations of the Cross and the Via Dolorosa, and visit the Church of the Holy Sepulcher. We continue to the Jewish Quarter, visiting the Cardo, the "Wide" wall built by King Hezekiah and the Herodian mansion. We then proceed to the Temple area and Mt. Moriah and see the Dome of Rock. We spend time at the Western Wall, and visit the Ophel Archaeological Park and Museum. We then return to our hotel. (B, D)
DAY 9: Monday, March 13 – JERUSALEM – After breakfast, we drive to Bethlehem where we enjoy lunch (on your own) and shopping. We visit the fascinating Church of Nativity, Milk Grotto and Shepherds' Field. We also have an opportunity to meet Palestinian Christians, then return to our hotel for dinner and overnight. (B,D)
DAY 10: Tuesday, March 14 – NEWARK, NJ / MONCTON, NB – Today our journey ends with incredible memories as we head home. We transfer to Ben Gurion airport and arrive in Newark the same day. Passengers with connecting flights depart from Newark.
Optional Jordan Extension Itinerary
Day 10: Tuesday, March 14 – ALLENBY BRIDGE, JERASH and AMMAN – After breakfast we check out from our hotel in Jerusalem and drive to the Allenby Bridge which spans the Jordan River between Israel and Jordan. There we are met and assisted by our tour staff and travel to Jerash, the "Pompeii of the East." Jerash is the site of Gerasa, one of the Decapolis, the famous ten Greco-Roman cities mentioned in the NT. Located 45 km north of Amman, Jerash is the best preserved example of Roman civilization in Jordan. Major highlights include Hadrian's Arch, the Hippodrome, the colonnaded street, the temples of Aphrodite, Artemis and Zeus, the Roman theater, the Nymphaeum, and 14 churches from the early Byzantine era. Next we are off to Amman, founded 7000 years ago and now the capital of the Hashemite Kingdom of Jordan. Major highlights of Amman include the Citadel where you can visit Amman Archaeological Museum, Hercules Temple, the Byzantine Church and the Ummayad Palace. The Roman Amphitheater is in the downtown next to the Folklore Museum. Amman's streets are ideal for short shopping walks within the old markets, and you can also enjoy cafes in the new part of the city. We overnight in a first class Amman Hotel. (B,D)
Day 11: Wednesday, March 15 – PETRA – After breakfast in Amman we drive to Petra, the 'Pink-Rose City' or the "Lost City." Ancient Petra, carved out of solid rock in 300 BC by the Nabateans, is one of the new Seven Wonders of the World. We have a breathtaking guided walking tour including a stroll through the narrow passage known as the Siq which dramatically opens up to reveal the Treasury Building (Al-Khazneh). We also see the Roman Theatre, Corinthian tomb, Palace of Pharaoh's Daughter, the Carved Roman Theater and the Royal Courts, along with an ancient cathedral. For those ready for a strenuous climb, a path takes you up 1000 steps to the high place, an ancient Nabatean sacrificial site with an altar cut from the rock. Tonight we stay in a first class hotel near Petra. (B,D)
Day 12: Thursday, March 16 – MADABA, MOUNT NEBO, and AMMAN – Following breakfast in Petra we head to the mosaic-filled city of Madaba, just 30 minutes south of Amman on the ancient Kings Highway. The major highlight here is the Greek Orthodox Basilica of St. George or the "Church of the Map." Here we see an ancient mosaic with two million pieces that portrays a famous map of the Holy Land from Jordan and Palestine in the north to Egypt in the south. Today Madaba is famous for its mosaic schools and hand-woven rugs. Next we head to Mount Nebo or "Moses Mountain," situated 10 km west of Madaba, overlooking the Jordan Valley, Dead Sea, West Bank and Jerusalem. It is here that Moses looked over the promised land before he died and was buried. We visit the 4th century Byzantine Church built in memory of Moses, then stay overnight in Amman. (B,D)
DAY 13: Friday, March 17 – AMMAN, ALLENBY BRIDGE, JAFFA, TEL AVIV and DEPARTURE – After breakfast we check out from our hotel and travel to the Allenby Bridge. We cross to Israel, meet our guide and driver and sightsee on our way to Jaffa. We tour Old Jaffa and Tel Aviv, then enjoy a farewell dinner before being taken to the airport. (B,D)
DAY 14: Saturday, March 18 – HOME – Today our journey ends with great memories and life-changing insights into Scripture.
* (B,L,D) = Breakfast, Lunch, Dinner
Frequently Asked Questions
How much money should I bring?
This is entirely up to you, but you will have few in-country expenses for this trip (e.g. lunch, souvenirs).
We recommend purchasing items with local currency or a major credit card.  You may be able to pay with US dollars at some places, but you will not get a good exchange rate.  We don't recommend traveler's checks.
Credit cards are best for larger purchases.  You'll pay a small fee, but it is worth it for the convenience.  As for which credit cards, Visa and MasterCard are your best options; we have found fewer establishments accept Discover or American Express.  You may want to let your bank know you will be traveling in Israel.
Don't worry about getting Israeli currency before you leave home.  It's better to wait until you arrive.
Where is the best place to get local currency?
Sometime after arriving in Israel, plan to obtain Israeli currency for incidental purchases.  Israel uses the new Israeli shekel (NIS).  Currently, the exchange rate is NIS 1 = .29 USD or $1 USD = NIS 3.48.
The best place to exchange currency is at an ATM using your debit card.  You will pay a service charge, but it will probably be lower than what you would pay at a bank or a currency exchange shop.  These might advertise "no commission," but you will get a less favorable exchange rate.
ATMs in Israel don't allow PIN codes with more than four digits.  If yours has more than four, change it before you leave home.  As a security measure, your bank may limit how much you can extract each day.  You can ask your bank to raise that daily amount.
What do things cost?
At the current exchange rate, you can buy a cup of coffee in Israel for NIS 12, about $3.45 USD.  A small bottle of water will cost about NIS 7 ($2 USD) and a small can of soda NIS 8.50 ($2.44 USD).
What will the weather be like?
Early March is late winter in Israel.  Expect daily temperatures to average about 12°C (54°F) in Jerusalem and the Galilee, a bit warmer in the Dead Sea region.  We may also get some rain.
What clothes should I pack?
Bring long pants and long-sleeved shirts.  You will probably also be glad for a sweater.  A light jacket and umbrella will be helpful, in the event of rain.
If you plan to take a dip in the Dead Sea, you'll want your swimsuit.  Holy sites require modest dress, which means no bare knees or shoulders.
How safe is it?
Any travel brings risks but we've found Israel to be very safe.  You'll notice the attention to safety in the pre-flight questions during a security interview.  On the streets of Israel you will see soldiers everywhere.  Tourism is one of Israel's major sources of income, so they go out of their way to protect us.  Non-violent crime (e.g. pickpocketing) does happen, but common sense is your best defense.  We use a money/passport pouch that is hidden under our clothing since our passports will need to be with us at all times.
What are we going to see?
We've prepared a day-to-day itinerary which you can find on our website and Facebook page.  You can also "attend" our "Virtual Trip to Israel" seminar online at these same sites.
What is the biblical significance for the sights we'll see?
We've included biblical references for each of the sights on the day-to-day itinerary located on the Facebook page.
How should I prepare myself?
We suggest familiarizing yourself with the day-to-day itinerary located on the Facebook page.  You should also plan to attend the "Virtual Trip to Israel" seminar on-line.
You can also check out the following websites:
https://www.seetheholyland.net/
For online news from Israel:
How long is the flight from North America to Israel?
The flight from the New York City area to Tel Aviv (Ben Gurion airport) should be about 11 hours.  Those traveling from Canada will have a longer flight, depending on their departure airport.
Other than clothing, what else should we pack?
We recommend bringing your Bible, a small notebook, and your camera.  Make sure you pack your prescription medicines in your carry-on.  It is also important that you bring comfortable walking shoes. You will be glad you brought a hat, sunglasses, and sunscreen.  Bring credit cards and your debit card for in-country purchases along with a money/passport pouch.  Consider packing headphones for in-flight entertainment or be prepared to buy them in flight.  Also consider bringing a portable charger for your cell phone so you don't lose charge mid-way through the day.
What about cellular service?
You should check with your cellular provider about international options.
Will we have internet access?
Most hotels have wi-fi, though some might charge.  You can also find internet in cafes, in some urban areas, and in the airport.
What is the VAT tax?
The Value Added Tax (VAT) of 17% is charged on all purchases paid in foreign currency (including credit cards).  The good news is that you can get a refund if:
Your purchase was made at a participating store (look for the "tax refund for tourists" sticker);
Your purchase cost more than NIS 400 (about $115 USD);
Your purchase is being taken out of the country and is for personal use (i.e. not commercial);
Your purchase is not food, drink, or tobacco;
You have your receipt for the purchase (ask the store clerk for a special tax-refund invoice which contains the printed name of the store); and
You present the invoice, receipt, the item (i.e. not in your checked bag), and the tourist visa you received upon entering the country to the tax refund desk at the airport (Terminal 3) when we depart.
Will I need a special adapter for my electrical devices?
The electrical current is 220 volts, 50 cycles alternating current.  Most outlets will be type H and will have three round holes (left).  You may find some type C outlets (as in Europe) (right).  You can purchase an inexpensive adapter at Amazon.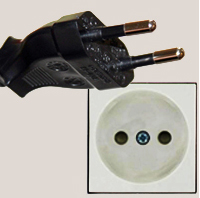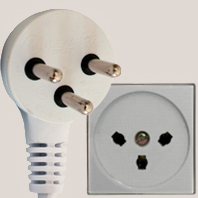 Do I need a passport and visa to visit from the USA or Canada?
You won't need a visa but you will DEFINITELY need a passport that is valid for more than six months after your travel dates.  When you enter the country, you'll receive a "gate pass" which serves as your identification while in-country.  You should keep this document and your passport with you at all times.
Do I need any special vaccinations?
Currently, all travelers entering Israel for tourism reasons must have proof of full vaccination against COVID-19. Please check the Israel tourism website for the latest requirements.
Is it safe to drink the tap water?
Yes, tap water is potable.  You may want to bring a refillable water bottle.
What if I forget to bring something?
Israel is a very modern country where you can purchase just about anything you might need.
What are the best souvenirs?
You will find this is a great place to purchase olive wood carvings, such as nativity sets.  Bethlehem is a great place for this.  You can also find lovely jewelry and pottery.
What is the time difference?
During our trip, Israel will be seven hours ahead of New York City and Montreal.
When are payments due?
Register by June 6, 2022 for $100 discount​
Register by September 5, 2022 for $50 discount
Final payment is due 60 days from the beginning of the tour – January 5, 2023.
If booking within 60 days of tour, a late fee of $50 is assessed, and final payment is due at the time of booking.
What about my airline tickets?
All documents and tickets are issued within three weeks of departure.  All payments must be received prior to issuing of tickets.
Our tour cost covers departures from Newark, NJ.  Tickets from Moncton, NB are an additional $150 USD.  You will need to arrange your own travel to and from Newark or Moncton although these flights may be purchased through Journeys Unlimited.  If you are making your own arrangements to fly to Newark, your flight must arrive at least four hours prior to our flight to Tel Aviv.  Before booking connecting flights, give Debbie a call at 888-432-4444 to confirm final details.
What should I take for luggage?
We recommend that you take along no more than one suitcase per person with a maximum weight of 50 pounds, plus one carry on with maximum dimensions of 9" x 14" x 22".  Airlines also have their own baggage restrictions; please check with the air carrier prior to your departure.
Should I purchase travel insurance?
Travel insurance is available through Journeys Unlimited for US travelers and must be purchased within seven days of your booking and deposit. We suggest that Canadian travelers purchase travel insurance through their preferred provider.
What is the land-only price?
If you want to obtain your own flights, the cost of the trip is $2,798 USD for the 10-day Israel portion and $948 USD for the 5-day Jordan extension.
What if I have other questions?
You can post your question on our Facebook page or call Debbie at 888-432-4444.
Testimonials
"What we liked most about this trip was sharing this amazing experience with a fantastic group of new friends.  The history and information shared by Steve, Joel and Gabriella, our guide, was top notch and really enhanced every site we visited, very meaningful.  Lots of fun too!"
"Seeing in person what I have read and preached about for so many years and hearing Dr. Lennox and Pastor Joel share was so enriching to me."
"We loved seeing the land, learning the history, experiencing the archeology, and the wonderful fellowship!"
"Scripture was read at most of the places we visited.  This made the places come alive to me."
"History and pulling it back to the Bible – outstanding."
Photo Gallery – Israel 2020