Invest in Kingswood University
The world needs our students, and our students need you. Students come to Kingswood University to train to lead in a variety of contexts from traditional ministry settings to non-traditional ones in their local and global communities.
Their educational experience prepares them to be Christ-like servant leaders equipped for global impact.
Obtaining an education can be the single largest investment in a student's lifetime. That is why we strive to keep tuition very affordable, so our students can be equipped to serve without a heavy burden of debt.
We rely on you, our faithful Kingswood supporters, who believe in our mission and want to financially invest in our students.
You can do this in a number of ways:
Give a one-time donation.
Become a monthly partner.
Set up a scholarship for a student.
Leave a legacy.
You can also give to various designated areas:
Christmas Offering
Kingswood Annual Fund
Phonathon
Buckingham Leadership Institute
Specified Area
For more information on Giving:
Debbie Benson, Donor Engagement
506.432.4411
Toll-free 1.888.432.4444
DonorEngagement@kingswood.edu
Note: All gifts are eligible for charitable receipts in Canada and the USA.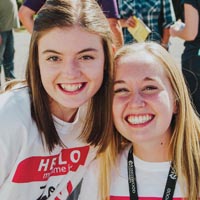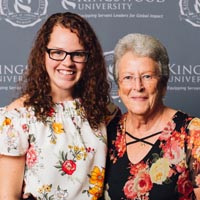 of KU Students Receive Scholarships or Grants
Returning Student Scholarships valued at over $350K
of Tuition is covered by Scholarships on Average
… for God loves a cheerful giver