When Life Gives You Lemons…
This was always supposed to be a special year in the life of Kingswood University, since it marked 75 years of serving the Church by raising up Christ-like servant leaders.  It turned out to be special for another reason: the year of the pandemic.
Thanks to the excellent planning and leadership of Kingswood staff, students were able to return to campus both in the fall and spring semesters, something many colleges could not offer.  Students signaled their gratitude by careful compliance with provincial public health regulations so that, at the end of the spring semester, no student or staff had come down with the virus.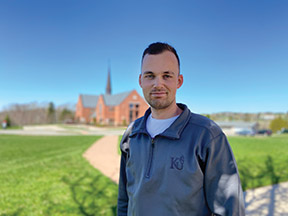 According to Student Council President, Reint-Jan Rammeleare, "students have been grateful for the opportunity to come back and enjoy in-class sessions, and on-campus living."  He also voiced appreciation for staff, "who have put in the time and effort to see this happen, even despite the inconveniences that COVID and the regulations can bring."
A safe on-campus experience was not accomplished without sacrifices.  Personal and school trips were limited as were some favourite on-campus activities.  When the spring semester began, New Brunswick was restricting gatherings to no more than 50, eliminating the possibility of gathering everyone for chapel.
With quick thinking from Dr. Janet Starks and the cooperation of student leaders, chapel moved to micro-sites.  Small groups of students, led by their peers, gathered across campus to experience worship and preaching, with the opportunity for discussion and prayer.  What began as a restriction turned into an opportunity for student growth.
Meanwhile, the pandemic provided an impetus for other new initiatives. The generosity of donors made possible the upgrading of classroom and chapel technology.  Recognizing the extra stress on local church pastors and congregations, the university provided a "care package" including online resources such as sermons and seminars.
The most ambitious undertaking was the expansion of several programs into an online format.  Starting this fall, students will be able to take any of these programs entirely online: 
Associate of Arts in Biblical Studies 
Associate of Arts in Evangelism and Compassion Ministry
Bachelor of Arts in Ministry degree with majors in
– Business
     – Children and Family Ministry
     – Christian Counselling
     – Evangelism and Social Justice (Praxis)
     – Marketplace Ministry
     – Pastoral Ministry
     – Youth and Family Ministry
Master of Arts in Pastoral Theology
While the pandemic overshadowed Kingswood's 75th anniversary celebration, it actually confirmed that the same God who has been faithful to this university for three-quarters of a century, is faithful still.