Learning Outcomes
Kingswood University is designed as "classrooms without walls." Learning takes place everywhere all the time.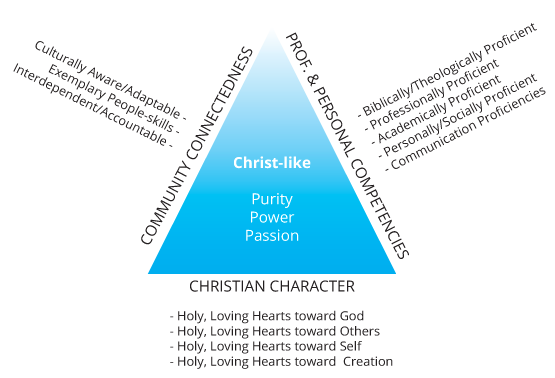 When we talk about learning outcomes at Kingswood University, we are referring to much more than what our graduates know but to also who they are becoming. Thus, we have two words that best describe our mission – holistic and integrated.
A holistic approach means that all life-lessons pour into the learning process. While we recognize the significant role the classroom has in our students' education, we also believe that corporate worship in chapel, doing life together in the residence halls, and serving alongside one another in ministry is equally important. All these experiences bring about a holistic transformation of our heads, hearts, hands, and habits.
Additionally, we design our classes to be integrated. We purposely incorporate "head-learning" with "heart-transformation" that is supported by "hands-of-service" to the world, both locally and globally.
For example, a Bible class may have an exegesis assignment that intentionally serves as an input into a preaching class. Or a theology lecture on the sacrament of communion will purposely set up a Pastoral Ministries class discussion about serving Communion. That discussion may then flow seamlessly into the actual celebration of the Lord's Supper in our chapel service.
In a detailed guide which describes our Learning Outcomes, our primary goal is under the guidance of Holy Spirit, to help each of our students to become "Christ-like" in all areas of life. Since we can only assess what we clearly express, these outcomes are detailed by design.
Other indicators that help us measure success include the following:
Retention Rate indicates the number of students that continue as students from one semester to the next. Our 5-year average for this semester-to-semester retention rate is 91% for undergraduate students and 83% for graduate students.
Graduation Rate measures the number of students who graduate within 1½ times the allotted timeframe for their program. Our five-year average for bachelor's degree programs is 59% and 93% for graduate degrees
Employment Placement Rate shows how many of our students are employed in a position that reflects an area of their academic and ministry training.
Further Education Placement Rate reveals how many of our graduates have been accepted into a program of further education in a related field.
 
Employment Placement Rate
Further Education Placement Rate
 
Class of 2017
57%
29%
Class of 2018
69%
22%
Class of 2019
50%
33%