Many years ago I came across this insight.
Jesus is the good shepherd (John 10:11) and the good shepherd will sometimes 'MAKE' his sheep lie down in green pastures (Ps. 23:2). A Jewish rabbi in Ottawa once told me that the Hebrew word for 'make lie down' is the word for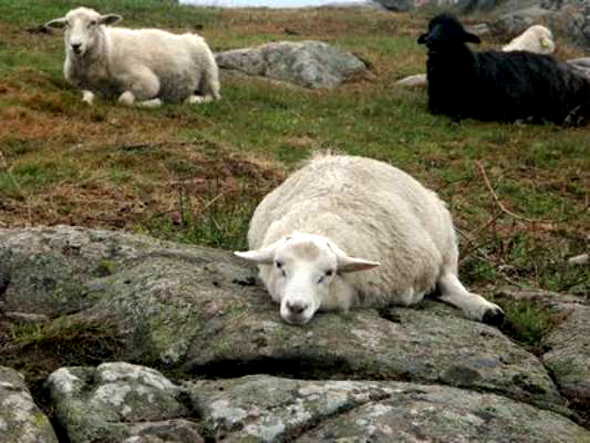 'shove or force down'. This is not the concept of the shepherd inviting the sheep to lay down … nor just providing a nice place for them to lay down … rather the shepherd actually forcefully pushes the sheep to the ground.
There are times when the good shepherd, because He knows what is in the best interest of the sheep, will cause a sheep to take an unwilling 'break' from their normal routines. Sometimes He forces them to lay down because there is danger (wolves/lions) in the area. Other times the sheep are becoming ornery and testy with each other due to overtiredness. Other times the sheep need to gain strength for an upcoming long journey … perhaps the sheep just need to be disciplined, like a parent insisting on a 'time out' to help their little boy/girl refocus and gain perspective.
And sometimes God forces us out of our normal routines for those same reasons. Quite a few years ago, the Lord forced me out of the pulpit for about 5 or 6 weeks with a serious and unexpected health problem. In hindsight, I obvious needed a physical and emotional break from ministry responsibilities … I had been pushing myself too hard for too long.  Those who have a high sense of 'responsibility and duty' can and do often push themselves too hard.  My mental, spiritual, and relational health were all in a nose-dive.  Thankfully the good shepherd lovingly took me out-of-the-game for a month or two to get some much need rest and restoration for my body and spirit.
AND sometimes as 'under-shepherds or pastors' (1Pet.5:2) we need to do the same for those under our care.  For their own sake, pastors sometimes need to lovingly insist members of the congregation take a break from ministry and life, so as to get some much needed rest, and to help them refocus on the important things in life. While our perception of the well-being of those under our spiritual care is not perfect like God's … never-the-less, there will inevitably be those moments in ministry when we notice a member of our flock who obviously needs to take a break from the regular routines of life and ministry, in order to get some much needed rest.  For the sake of their marriage, health, spiritual vitality, emotional well-being, etc. the right thing to do is to ask people to take a short break from ministry responsibilities.  If we pastors do so, we are following closely in the example of the best shepherd of all (see Mark 6:31).
Has anyone ever 'forced' you down … and in hindsight, it really was in your best interest to take the break?
Is there someone you know who really needs to be given a break from ministry responsibilities right now?