We are excited to see you are interested in applying to Kingswood University! As a special gift for completing our Passport to More at our Follow '19 booth, we are happy to waive the $40 application fee. Please fill out the application form below and an enrolment counsellor will be in touch with you to discuss your decision and help you with next steps.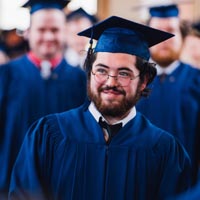 Application for Undergraduate Enrolment

MY KU Experience
When I arrived at Kingswood I had no idea what I was doing and I was full of doubt and fear. I had little to no musical ability (which is something that's terrifying for someone going into the worship arts program). My doubt in myself overshadowed my confidence in what God could do through me. If God hadn't so directly intervened in my life on multiple occasions, I would've abandoned my call long ago. As I've continued to grow at KU, I've had to learn that God can use the least of these which includes me. At Kingswood, I'm learning to trust God more and more. He is faithful even when I'm not and especially when I doubt myself. 
Christian, South Carolina, US