Our Christian Counselling program will give you the opportunity to learn the proper and necessary skills to be able to successfully counsel those needing your help, as well as build a rock-solid foundation for further training as a licensed counsellor.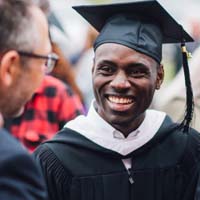 Christian Counselling
Available as a program major or minor
Is this program for me?
Do you consider yourself to be a listener with a heart for hearing people share their hopes, fears, joys, and hurts with you? Do you desire to offer others wise counsel as an encouragement to them in life's journey? If effective ministry through counselling is your goal, our Christian Counselling program may be the perfect fit.
Practical Ministry Experience
Develop your confidence and competence in using Christian counselling skills.
Develop a philosophy of Christian counselling that is Christ-centered and therapeutically relevant.
Learn how to counsel individuals and groups through classroom counselling practice sessions with fellow students, under the guidance of your professor.
Engage in practical ministry for three hours each week under supervision.
Complete a four-month internship in your fourth year under the supervision of an experienced counsellor in a counselling context.
Core Courses
Adolescent Psychology
Child Psychology
Introduction to Addiction
Developmental Psychology
Introduction to Counselling
Psychopathology
Crisis Counselling
Marriage and Family Counselling
Chat with a Professor  Apply Now
Additional courses and course descriptions can be found in our catalogue.
Let your light shine before men…