Our Worship Arts program will teach you how to be a worshipper first and a worship leader second. Be prepared to increase your servant heart, music skills, theological understanding, and your biblical philosophy of worship for effective ministry in the local church.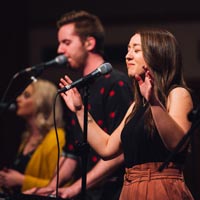 Worship Arts
Available as a program major or minor
Is this program for me?
Do you love to sing and play an instrument? Do you enjoy entering into worship and leading others in the same? If this resonates with you, then our Worship Arts program could be the perfect fit for you.
Practical Ministry Experience
Cultivate a sound worship theology based upon what the Bible teaches and how Christian history has influenced our worship.
Learn how to competently lead congregations in meaningful and inspiring times of worship through a commitment to musical excellence and lifelong learning.
Prayerfully and carefully plan, prepare, and lead services of worship for your local congregation with a goal to spiritual formation.
Serve in the chapel worship team as an instrumentalist, vocalist, and/or co-leader or in our tech booth through running ProPresenter, sound, lights, and/or camera.
Participate in the chapel choir, performing about five times a semester.
Spend four months on internship in your final year, serving with and learning from an experienced worship pastor in a local church context.
Core Courses
Theology of Worship
Music Theory I & II
Group Guitar Class
Group Voice Class
Technical Ministries
Worship Leading
Introduction to Song Writing & Arranging
Applied Music Lessons in Guitar, Piano, and Voice
Chat with a Professor  Apply Now
Additional courses and course descriptions can be found in our catalogue.
Make a joyful noise unto the Lord