We are His hands and feet
Our Evangelism, Compassion, & Social Justice program is designed to teach you how to serve as the hands and feet of Jesus in a broad variety of settings.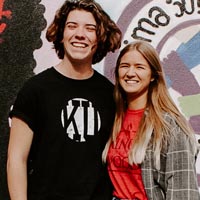 Evangelism, Compassion, & Social Justice (PRAXIS)
Available as a program major only
Is this degree for me?
Do you have a heart for reaching those in desperate situations like human trafficking victims, prostitutes, drug addicts, prisoners, and the poor and needy? If you are burdened to make a difference in this world as a servant and a witness, this may be the ideal program for you.
Practical Ministry Experience
Gain a biblical understanding of the relationships between compassion, evangelism, and social justice issues and why all three must be present to give a complete representation of the gospel.
Learn how effective outreach and ministry can serve the physical, intellectual, emotional, and spiritual needs of individuals.
Be prepared to do evangelistic and compassionate outreach work for every age, from children to seniors, in a variety of environments with weekly trips to such places as street missions, transition houses, shelters, soup kitchens, prisons, drug rehabs, and at-risk youth programs.
Use your gifts in such areas as dance, music, drama, sports, and tech each week in ministry opportunities.
In addition to weekly and monthly service opportunities, you will head to New York City for a ten-day ministry trip, embark on a ten-day cross-cultural trip to a foreign country, and mentor and lead fellow students on ministry trips.
Cap your learning journey with a four-month internship in your final year, under the supervision of an experienced leader in a social justice or compassion ministry in an urban or cross-cultural setting.
Core Courses
Foundations of Social Justice
History of Civil Rights & Social Justice
Introduction to Compassion Ministry
Urban Ministry/Community Development
Oral Communication
Personal Evangelism
Worldview
Regional Praxis; Urban Praxis; Cross-cultural Praxis
Chat with a Professor  Apply Now
Additional courses and course descriptions can be found in our catalogue.

MY KU Experience
A few years ago, I had this woman tell me that I would make a good pastor. "That's what my atheist co-workers always tell me!", I responded. She went on to say that I should look into going to Kingswood University. I had never heard of Kingswood so I decided to check it out. I went online and realized Kingswood was a Bible School. I was very passionate about the things of God and wanted to grow in my faith so three months after finding out about Kingswood, I was on my way.
At Kingswood, I'm in the Evangelism & Social Justice program (PRAXIS). Through my practical training, I've ministered in soup kitchens, homeless shelters, senior's home, prisons and I've also had the privilege of going on several international mission trips.
Alex Abriel, Nova Scotia, Canada