Our Church Planting program will train you to creatively plant healthy churches grounded on a solid biblical foundation.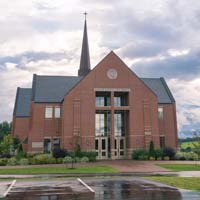 Church Planting
Available as a program major or minor
Is this program for me?
Do you love to embrace the adventure of uncharted territory? Are you sensing God prompting you to start something new for Him to reach the unchurched? Our Church Planting program will equip you to step out in faith and confidence to plant an effective, healthy church.
Practical Ministry Experience
Learn the careful planning required for a successful church planting initiative, including finances, outreach and evangelism strategies, and staffing.
Take your learning on the road through field trips to church plants in a variety of denominations to see how they operate.
Plan, organize, recruit a lead team, and actually implement a new ministry, including any necessary fundraising, through the Start Something New creative project.
Engage in practical ministry for three hours each week under supervision.
Spend your four-month internship in your final year working with an experienced pastor in a church planting context, immersed in learning how to plant a church.
Core Courses
Introduction to Compassion Ministry
Principles of Church Planting
Strategies in Church Planting
Church Health, Growth, & Leadership
Empowering & Equipping Lay Ministry
Pastoral Ministry
Homiletics
Expository Preaching
Chat with a Professor  Apply Now
Additional courses and course descriptions can be found in our catalogue.
And the Lord added to their number daily …